Idaho State University Family Medicine Residency/Counseling and Mental Health Center
1 Full-Time Funded Position with Benefits
General Information
The Idaho State University (ISU) internship program is a collaborative training opportunity with two partnering clinics providing a diverse training experience in a family medicine primary care and university counseling setting: ISU Family Medicine (ISUFM) and ISU Counseling & Mental Health Center (CMHC).
ISU Family Medicine (ISUFM) is an interdisciplinary teaching and training site at ISU, and the clinic has partnered with Health West Community Health Center, a federally qualified health center (FQHC) to provide clinical services to the area, serving as a training site for clinical psychologists, family medicine physicians, clinical pharmacists, physician assistants, and nurses providing a rich training environment. Interns provide traditional psychological services such as individual counseling and diagnostic assessments as well as integrated behavioral health services mostly focused on the adult and geriatric populations to a diverse population from all over Southeastern Idaho. ISUFM has a strong commitment to teaching and to providing services to our underserved population.
Counseling & Mental Health Center (CMHC) is the mental health center for ISU students. While at ISU CHMC, interns will have the opportunity to provide individual counseling and group counseling to undergraduate and graduate students, as well as other optional training opportunities in biofeedback or supervision. We also provide outreach and prevention education and consultation to the campus community. Our clients are as diverse as the ISU student population in age, ethnicity, sexual orientation, gender and gender identity, nationality, and religion, and they seek help with a wide variety of concerns.
Founded in 1901, Idaho State University attracts students from around the world. ISU offers high-quality education in more than 250 programs and is the state's designated lead institution in health professions. ISU is a Carnegie-classified doctoral research institution.
The Internship Experience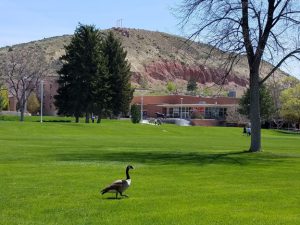 At ISUFM, interns will have the opportunity to gain clinical experience providing initial psychological diagnostic interviews/assessments and outpatient therapy while interacting closely with other disciplines. ISUFM provides a strong clinical training environment and is dedicated to supporting trainees' educational experience in the highest manner to prepare them to function in a variety of outpatient and integrated settings. Interns completing this internship will be well-rounded in generalist psychological practice including individual outpatient psychotherapy with young adults to geriatric patients, as well as providing integrated primary care consultations to residents and physicians concerning the psychological dimensions of their patients. Services may also include warm handoffs/crisis visits. Training may also be shaped, to some degree, to suit the particular interests of a given intern with an emphasis on evidence-based, goal-oriented treatments including a variety of modalities such as CBT, ACT, DBT, and interpersonal and emotion-focused approaches. Common symptom presentations include depression, bipolar disorder, anxiety, psychosis, somatic symptoms, stress and adjustment issues, post-traumatic stress, interpersonal difficulties, and personality disorders, as well as substance use disorders, dementia, and presentations involving the behavioral management of diabetes, sleep disorders, hypertension, weight loss, chronic pain management, etc. Interns will also be trained in providing culturally competent services to support clientele adjusting to cultural adjustment stress, minority status stress and other related LGBTQIA+ factors. Our clinic serves a large transgender population providing training opportunities. Interns at ISUFM will have the opportunity to consult to a collegial and innovative interdisciplinary health care team in a primary care model of treatment as well as serve as the consult liaison on the HIV/HepC team.
ISU CMHC typically utilizes short-term goal-oriented modalities, but students may be seen longer term if clinically indicated. We commonly see students seeking services for anxiety and mood disorders, interpersonal concerns, coping with stress, identity development, intersecting identities, academic concerns, eating disorders, grief, and trauma. We also offer outreach and prevention programs; crisis intervention during business hours; and consultation to faculty, staff, families, and friends of students. CMHC staff are dedicated to the training and supervision of future mental health practitioners. We provide training to masters level counseling and social work students, doctoral level clinical psychology and counselor education students, psychiatry residents, and pre-doctoral psychology interns. Interns will be trained in multiculturally informed practices in a setting that is welcoming and affirming of all identities.
CMHC staff is composed of mental health professionals from a variety of training backgrounds. We have staff who have received extensive training in a variety of modalities. Some of our current specialties include ACT and Focused ACT, mindfulness and self-compassion-based interventions (with one staff certified as a Mindful Self-Compassion teacher), biofeedback (with two staff board-certified by BCIA), EMDR, and interpersonal process. We regularly consult with the ISU Health Center staff to ensure coordination of care for our students, and frequently refer to and consult with other Student Affairs offices.
At CMHC, interns will have the opportunity to choose an optional specialty track of either group therapy; biofeedback training; mindfulness/self-compassion; supervision; or outreach, community engagement, and prevention.
CMHC has a robust group program including multiple interpersonal process groups, DBT, ACT for anxiety, Mindful Self-Compassion, and mindfulness meditation. We also offer support groups for survivors of suicide loss, and other targeted student groups at different times such as international students, graduate students, autistic students, chronic health conditions, first generation college students, and a ReST Resiliency Training group. Other groups can be developed to meet a current need.
While at Idaho State University, interns will be expected to:
Manage outpatient psychotherapy and diagnostic assessment caseloads and maintain documentation in a timely manner.
Follow all ISU, Family Medicine, CMHC, ID-PIC consortium, and APPIC policies, and all relevant laws and ethical guidelines.
Regularly attend, be prepared for, and be receptive to weekly supervision and didactics.
Maintain regular contact with patients by engaging in routine outreach.
Act as behavioral consultants to physicians, clinical pharmacists, and the HIV clinic.
Provide crisis intervention, outreach, and consultation as needed.
Provide proof of liability insurance.
The intern is required to have a TB skin test as ISUFM, an integrated primary care center. The intern is required to receive Covid-19 vaccinations (or provide proof) and is also strongly encouraged to receive a flu vaccine during their internship year and ensure all vaccines are up to date.
Pass a background check and an extended background check.
Location
Idaho State University is located within the city of Pocatello. Pocatello is a mid-sized university town of approximately 50,000 people nestled in a valley and surrounded by very accessible mountains. Given Idaho's rural character, people come from all over the region for health care. There is an abundance of things to do and places to visit within a short distance from both Pocatello. Yellowstone and Teton National Parks, Sun Valley and Grand Targhee ski resorts are all close by as are many recreational areas in Utah. The local Pebble Creek ski area offers intermediate and expert skiing within twenty minutes of downtown Pocatello. Camping, hiking, rock climbing, road and mountain biking, cross-country skiing and river sports are within minutes of Pocatello and offer uncrowded outdoor recreation. The area also offers blue ribbon trout fishing as well as numerous public and private golf courses and frisbee golf parks. The area is home to several rodeos and other cultural events throughout the year.
Contact Information
ISUFM Site Director & Supervising Psychologist: Verena Roberts, Ph.D., Director of Behavioral Science
Verenaroberts@isu.edu
ISU CMHC Site Director & Supervising Psychologist: Matt Ashton, Ph.D., BCB, mattashton@isu.edu
ISU CMHC Supervising Psychologist: Liva Rigney, Ph.D., livarigney@isu.edu